As many of my friends know, I love the work of Rainer Maria Rilke. Some of his poems I have had to read many times in order to relate to their meaning. Not that I truly ever understand them. But in reading about him, I suspect he would love that I am trying. These days my thoughts are hovering around the fact that this year I will be 70. I am a realist and am not morbid about dying. I will accept it as gracefully as possible and know I lived a full life. I have sadness and victories to carry me forward. But as I read the obituaries of more and more people in their mid 70s to mid 80s, I realize that I have about 10 to 15 (if I am lucky) years left. That is not very much time.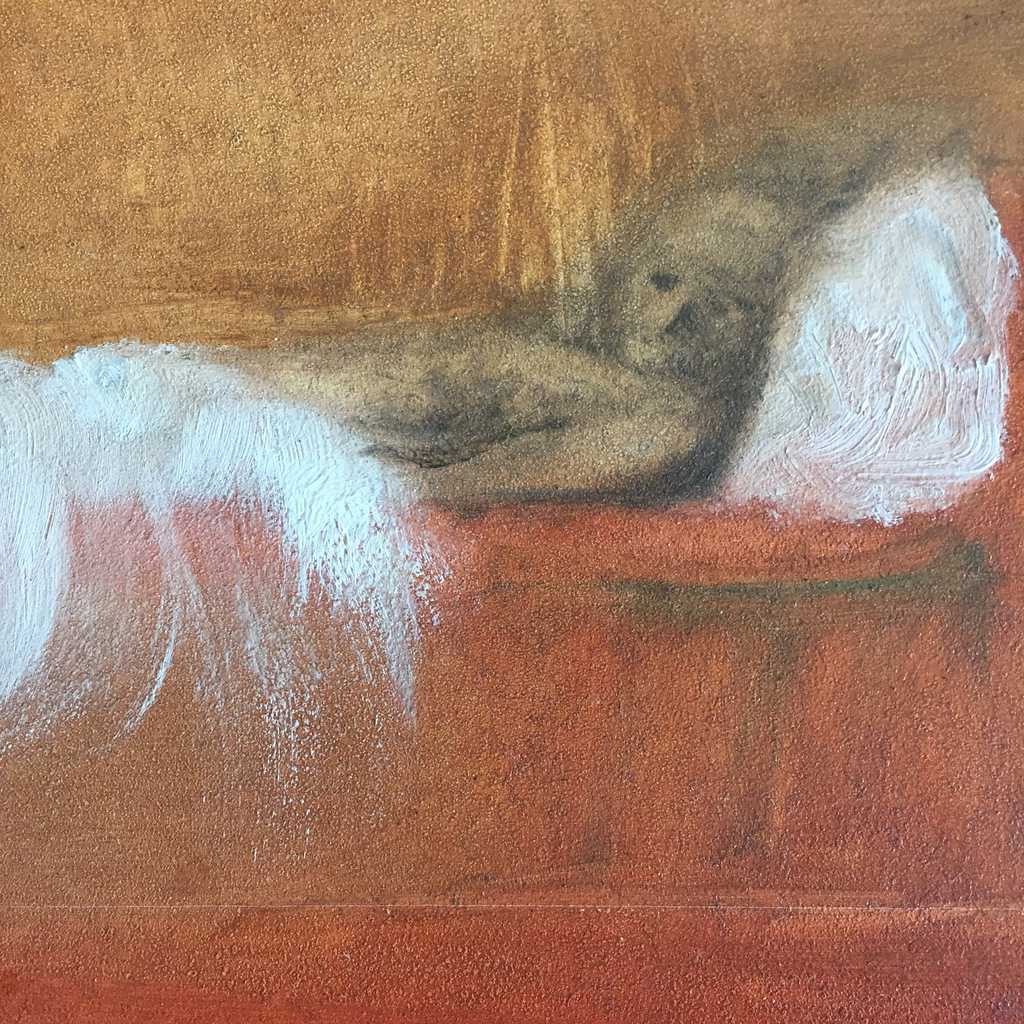 My profession, architecture, and my new avocation, painting, are interior pursuits. They are about the imagination. Painting is conducted, in my case, at a easel, inside of a space; and alone. The ideas I pursue are propelled by dreams. Since I was a little boy, I have had vivid and memorable dreams. Dreams in Technicolor; completing a dream the following night; serial dreams that last for weeks; repeating dreams. Now, as I mine these past glances into my inner self, I find images emerging that I am trying to paint. It is an interesting juxtaposition: living in a dreamland and recreating that dream within the memory that may be distorted by the essence of what was dreamed. Rilke's poem "Evening Meal" (included with this blog post) was written after he experienced (as described in a letter to his wife on October 4, 1907) a contentment that fills small shops on the rue de Seine as he walked through the city. He said "Ah, if only that sufficed: I've sometimes had the wish to buy myself a full shop window like that and sit myself down behind it with a dog for twenty years. In the evening there would be light in the back room, in front everything completely dark, and the three of us would sit and eat, behind; I've noticed how, seen from the street, that always looks like a Last Supper, so grand and ceremonious through the dark  pace. (This way, though, one always has to contend with all the worries, the great ones and the small ones.)…"
My shop window is my mind. And I will sit there, quietly, and let the passersby experience what ever I conjure up and translate to the canvas. And I will continue to worry about the "great ones and the small ones." This great-and-small is, for me, a unity of the grand and small that sparks life.
Evening Meal
Things eternal want to join us. Who chooses,
and separates the great and lesser powers?
can't you see through the twilight of the shops
the last supper shining in the back room:
how they hold it there and pass it on
and in those actions gravely, simply rest.
From their hands the signs are rising;
they don't know that they perform them,
and newly with each exchange of words
establish what one drinks and one stares.
For there is no one anyplace who isn't
secretly departing, even as he stays.
And doesn't someone always sit among them
who gives away his parents, still anxiously
serving him, to their completed, cast-off time?
(To sell them would not be worth his while.)
—Rainer Maria Rilke, New Poems [1908] "The Other Part"
North Point Press ·San Francisco · 1987 · Translated by Edward Snow