I am home from the hospital and beginning to assimilate to staying in bed for 22 1/2 hours a day—since I am allowed up only 3X a day for the first two weeks. This is to reduce the negative impacts of swelling that will occur if my ankle is below the level of my heart. It is interesting how quickly my toes change from a normal color to purple when I stand. This is the result of fluids, etc built-up during the surgery. In two weeks I will be be fitted with a cast—but will still not be able to place any weight on the foot. After this four week period with a cast I will be fitted with a boot and will begin gradually putting weight on my foot—beginning with 25 pounds. Over the next four weeks I will graduate to full weight bearing. The next steps will be to increase my strength since long periods of inactivity will inevitably result in muscle atrophy.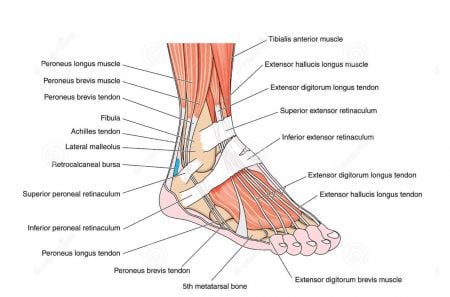 In the post-operation meeting with Dr Crary I learned that I was born with an abnormally small diameter Peroneus Brevis Tendon. The Peroneus Longus and the Peroneus Brevis Tendons were damaged and needed to be fused. Dr Crary was able to use part of the Peroneus Longus Tendon to strengthen the abnormally small-diameter Peroneus Brevis Tendon and also fuse it to the Peroneus Longus Tendon. It was for this reason, combined with an abnormally high arch and off-center heel (both also corrected), that I had pain while walking. My tendons finally, after nearly 70 years, said: ENOUGH! It will be great, by early next year, to get back to my daily walks.
One of the unexpected good things about being confined to bed is my mental alertness does not seem to be affected by the medication or pain from the surgery. I had expected to be foggy and disoriented. So far this is not the case. This is, of course, exciting for me. I am not one to enjoy "sitting still" or being passive. I love to be on-the-go and exploring life in many ways. So, besides my "reading pile" I will be able to sketch, keep up with friends and do some routine bookkeeping jobs. I am sad that the burdens of physical work around the house will have to fall on Lea's shoulders. Especially since she is still in physical therapy. We are both looking forward to a pain- and care-free 2019!
I am blest to have a nice group of friends who have been offering terrific advice on exercise, equipment, etc. I cherish these friendships. Interestingly, as we all age and slide into our twilight years, we become even more aware of the importance of these connections. As interesting is that many of us are "feeling" the same things albeit in different locales and health circumstances.
One of the most disappointing things about this necessary medical event and its consequences is that I will miss Hannah's 40th birthday party on September 5 in Blacksburg—at which many of her cousins will be present. I was so looking forward to seeing all of them again and meeting their children. I will make an effort in 2019 to try to go see them and meet their expanding families.
Of course, as soon as I am able to walk and climb stairs I will get back to the studio to paint—doing what I love.